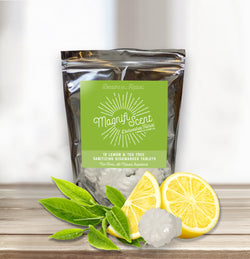 Oxygen Boosting Dishwasher Sanitizing Tablets
Have you ever thought about what you're sanitizing your dishes and utensils with? 😉 YES!! while your dishes and utensils are in the dishwasher they will be getting some love from our tablets to sanitize and also clean your dishwasher from any mold and not so good smells that can come from using a dishwasher.  
We admit, it's not something that usually crosses our minds either, but we spend so much time and resources finding, preparing, and cooking healthy food for ourselves and our families.... only to then douse our plates in chemicals when we use the dishwasher. It doesn't make any sense, does it? We created our Automatic Dishwasher Tablets for this very reason... Because what you sanitize your dishes with DOES matter.⠀These can also be used daily.
MagnifiScent Aromatherapy Dishwasher Sanitizing Tablets:
Each packet container 20 tablets

All Natural Lemon and Tea Tree Essential Oil 
DIRECTIONS FOR USE:
Use 1 to 2 tablets weekly - unwrap individual table and place  in the bottom basin of your automatic dishwasher. You can use these daily in your dishwasher if you would like.
INGREDIENTS:
Water, Non-GMO, Citric Acid, Natural Baking Soda, Essential Oils of Lemon and Tea Tree Oil