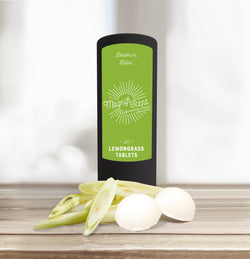 Lemongrass MagnifiScent Aromatherapy Tablets
Lemongrass is the perfect scent for when you need an energy boost. It has a very clean, crisp aroma, with a distant citrusy lemon feel with the botanical exotic fragrance. Overall effects is purifying, refreshing and energized. Drop 1 or 2 tablets into your unit let them COMPLETELY DISSOLVE and sit back and relax. 

Each container is filled with 10 large natural tablets packed in an elegant container that makes it the perfect gift.