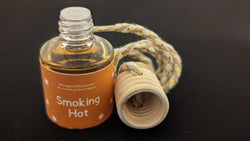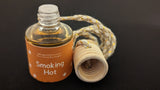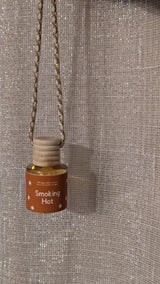 Smoking Hot scented Car Diffuser
A resinous, relaxing woody blend of true smoked cedar and oud embers. Highlighted with warm notes of clove, cedarwood, and spearmint on a base of patchouli and amber.
Top notes: White Clove, Black Pepper, Spearmint
Middle notes: Oud, Smoke, Cedarwood
Base notes: Vetiver, Dark Patchouli, Golden Amber
Phthalate-free
Contains Essential Oils: Black Pepper Oil, Cypress Oil, Clove Leaf Oil, Patchouli Oil, Spearmint Oil, Vetiver Oil
How to use:  Untwist wooden cap, remove stopper, twist cap back on tightly, turn upside down for 10-15 seconds and hang around your rearview mirror.
Comes with instruction card
Last 30 plus days